Just the other day Chris and I were talking about how much our kids look a like a birth. Since Layla's birth a few weeks ago, we've gotten a lot of opinions on which sibling she looks the most like. I thought it would be fun to put their hospital pictures side by side to really see who resembles who.
And what better time to do that then this week while
Shell
is hosting the Rockin' the Baby link up.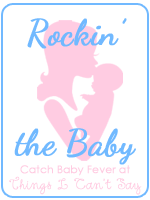 Grace: 8lbs 6oz
Alex: 8lbs 14oz
Eva: 7lbs 14oz
Layla: 7lbs 7oz
(And of course by the fourth child we forgot to take a picture on the scale. And when I say "we" I mean Chris. I was on the operating table so I take no responsibility)
Besides the difference in size, I think these could all be the same baby. Although they are each unique now in their characteristics and features, as babies they shared the same look.
Regardless, they are all beautiful and I'm glad their mine!